Some ethnic minorities like Tay, Thai, Dao Lo Giang, Nung and Raglai chose to celebrate Tet in the Vietnam Museum of Ethnology in Hanoi, instead of their own home.
Seventy year old Duong Thi Nham lit joss sticks and prayed for a good harvest and a prosperous New Year. This was her first ever visit to Hanoi. She said that even though she was spending Tet away from her home, she was relaxed at the thought that her children would be conducting the ceremonies back home just the way she had taught them.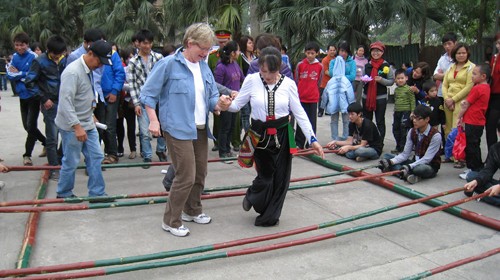 A Thai minority girl instructs a foreign visitor to play bamboo dance at the museum (Photo: Tuoi tre)
She brought along with her the dan tinh (a hat made of gourd, used for exorcist ceremonies) and a traditional musical box. Both items had been made by her. She has been making dan tinh since she was 13 years old.
Accompanying Mrs. Duong Thi Nham were artists who sang Then songs, played the din tinh and xoc bac (special musical instruments of the Tay minority).
They all prayed that the next generation would learn to play dan tinh and conduct Then ceremonies for their forefathers as they themselves were now getting too old and did not want this art to die down.
The Raglai ethnic minority in the central province of Ninh Thuan came to Hanoi on January 1 of the lunar year to perform in the museum during Tet on their traditional musical instruments like cong chieng (Gongs of Western Highlands).
They also brought with them food offerings for worship to their forefathers in the New Year. Their music spoke of love and romance between humans and of friendship between humans and animals. The singing brought a vibrant and unique atmosphere of excitement within the museum.
Ta Ieng Thao, a Raglai youth, said that Tet of his community coincided with Kinh's (Vietnamese people) and he had to finish wrapping cakes and worshipping before coming to Hanoi. The Raglai people have a very important ceremony called cung dau lua or worshipping for a good harvest. He had specially asked his parents and wife to perform this ceremony as he was told it was an honor to perform Raglai's traditional music in Hanoi.
People of different ethnic minorities from the central province of Ninh Thuan to the northern province of Lang Son gathered in the museum to welcome the New Year with traditional dishes quintessential to their community. Couples from the Dao Lo Giang group sang songs to seek friendship with the opposite sex and even performed a mock traditional wedding with Thai people doing the bamboo dance and the Nung people doing the lion dance.
Visitors to the museum were enthralled with this unique cultural get together. They also enjoyed folk games and water puppetry. An American tourist commented that he had discovered a multitude of so many interesting things in just one morning in the museum.