An innovative exhibition highlighting all things German will take place in Vietnam from early March to mid April.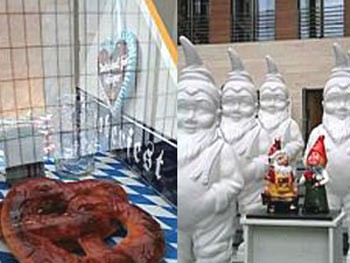 A section of the German exhibition coming soon to Vietnam
Titled "Germany for beginners," the free event aims to highlight German history, culture and politics in a creative, vibrant and humorous way.  
The exhibit is designed like an oversized library with alphabetized sections marking a range of categories such as German customs, lifestyle and future trends.  
In the sports section, for instance, visitors can experience unforgettable German matches on a large screen, hear both new and old football songs, or even observe the actual footballs used in the popular matches. 
The exhibition will run in Hanoi from March 5-14 and will later move to Ho Chi Minh City from April 9-18.  
In Hanoi, the free event will be held at the Goethe Institute (56-58 Nguyen Thai Hoc Street, Ba Dinh District) and the German Academic Exchange Service (1 Dai Co Viet Street, Hai Ba Trung District). In HCMC, the exhibit will run at the General Science Library (69 Ly Tu Trong Street, District 1). 
The popular exhibit, lauded by the public, kicked off at the German Foreign Office in Berlin last autumn before showcasing in several other countries around the world.