The ancient village of Duong Lam in Son Tay District in Hanoi was granted the 2013 UNESCO Asia-Pacific Heritage Awards for Cultural Heritage Conservation on February 18.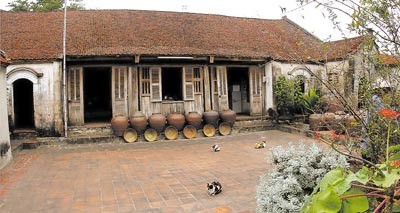 Duong Lam ancient village
The village was honored for its efforts in restoring five ancient houses displaying Vietnamese vernacular wooden architecture. The project was an endeavor taken by carpenters, architectural historians and Japanese experts.
Certificates of merit were also awarded to 27 individuals, including 15 Japanese experts, and 3 organizations who have outstanding contribution in preserving Duong Lam Village.


The ancient village of Duong Lam is about 46 kilometres from Hanoi with 800 houses. It is a nationally-recognized ancient village in 2006.

The village is special because it bore two kings, Phung Hung (761-802) and Ngo Quyen (808-944). They led the resistance against China's Sung and Southern Han troops and regained national independence.

Famous temples Sung Nghiem Tu (Mia Pagoda) and Mong Phu Temple were built in honor of the two kings.

Mia Pagoda is located on a small hill in Dong Sang Hamlet.