The magnanimous legend of ten young female volunteers at Dong Loc Road Junction was reappeared on July 18 in a commemorative musical performance entitled "Dong Loc Road Junction – 40 years" on a hill at the Junction in Dong Loc Commune, Can Loc District, Ha Tinh Province.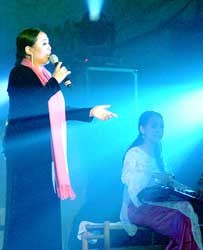 Ms. Thu Hien will participate in the musical performance
The musical performance is presented by the Police Newspaper, Ha Tinh Television and the Association of Ha Tinh.
According to the stage director Mr. Ha Thanh Hoang, the operators transported about 100 tons of audio equipment and lighting, television trucks and other supplies to ensure the portrayal of an accurate life portrait of the unit of ten young female volunteers aged 17 to 20 that were assigned to keep the road open to traffic at Dong Loc Road Junction 40 years ago.
The stand was constructed as a hollow while the 3-floor stage will be set up at the bottom center of the hollow. The director used some real anti-aircraft guns as background and many lights and binaural effects to imitate the atmosphere of the real fights.
A long list of many popular singers for the genre of prewar and country music, of which a few are People's Artists Thu Hien, Quang Linh, Thanh Thuy, Thuy Duong, Nhu Y, Thu Trang gave their special performances together with some traditional dances performed by 20 dancers.
The musical performance consists of three parts including Nga Ba Dong Loc (Dong Loc Road Junction), Le Nao Quen Em (I will not forget you), Toi Tim Em Co Gai Song La (I'm going to find you, a girl at the La river) which is expected to portray a picture of the love still alive in a harsh war 40 years ago.
The audience had a chance not only to see but also to feel the brave spirit of the girls during the war. The directors also staged a portrait in which old mothers cry when finding out that their daughters have died. Emotions are expected to climax when the mothers have no tears more to cry.
All the performances drew a picture of a new Dong Loc after the war with a new life, a new breath and a new vitality.
The musical performance was broadcasted nationally on Channel HTV9 on July 18 at 8pm.