This year, Vietnam's National Day (September 2) is in the middle of the week, so people have four days off. Some people take a vacation, some take a trip around the city or come to their favourite place to relax with families and friends. Here are some popular places for u to be entertained on this occasion.
Dam Sen Park, Hoa Binh Street, District 11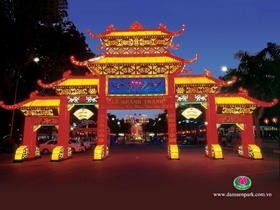 Dam Sen Park
On September 2, Dam Sen Park will organize many activities to serve visitors such as fireworks, music performance.
The park is also offering a comedy named " Son Tinh, Thuy Tinh" and a water puppet " Beauty and Beast" and a circus show.
The park will organize a food festival with various kinds of food including Vietnamese food and Asian foods.
Suoi Tien Cultural Park, District 9
Suoi Tien Cultural Park offers many programs to lure visitors as well as children such as a music performance and dolphin and sea lion performances.
Many 'strong sensation games' such as a roller coaster, speed racing, universal circle or discovering a space tower will please visitors who want to challenge themselves.
A firework will be set off here at 9 pm.
Dai Nam Cultural Park, Binh Duong Province
Dai Nam Cultural Park will organization a music performance and a comedy program.
Dai Nam town divided into two areas for consumer products and food, a photo exhibition, a street dance performance and other promotion programs.
Ho Chi Minh City Book Distribution Corporation or Fahasa will display books related to Vietnamese revolution and historical events.
Sep 23 Park, District 1
a circus program will be held on September 2,4,5 with circus arts won the Circus International Festival.
Brothers Quoc Co and Quoc Nghiep, who won gold prize in the Circus International Festival will perform Suc manh doi tay (power of hands).