Pop star My Linh will travel to Japan on September 16 to release her albums, including Made in Viet Nam, Chat with Mozart and Let Love Sing, in the Japanese market on September 19.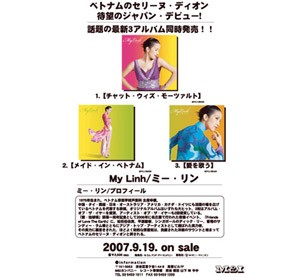 Three albums by My Linh will be released in Japan on September 19.
These albums are chosen by the Japanese M&I Record Firm and distributed by the Pony Canyon, one of three of Japan's leading distributors, which include Sony Music and Toshiba EMI.

The diva accompanied by her colleagues will appear at a press conference in Tokyo on September 18. JTB Entertainment, the representative of the singer in Japan, and M&I Record will launch a marketing campaign to promote the albums in Tokyo and Nagoya.
 
Selected songs from the albums will also play on some radio stations in Japan such as Rado-I and Zip-FM.   Of the three albums, Made in Viet Nam is nominated as a best album of September by the Rado-I.
"I am so happy to release my albums in Japan. It is a good chance to introduce Vietnamese music to the Japanese. The albums being highly appreciated by Japan's experts is the result of our working with all our might" Linh said.
Chat with Mozart, released in 2005, includes classical music by Mozart, Bach, Schumann, Tchaikovsky, and Vivaldi with lyrics written by well-known Vietnamese songwriter Duong Thu.

Issued in 2003, Made in Viet Nam consists of 11 songs composed by musicians like Duong Thu, Huy Tuan, and Bao Chan.

Let love sing released last year includes 10 songs written by some of the aforementioned composers and other young musicians such as Ho Hoai Anh.