Puppetry is a special kind of traditional Vietnamese art. This art not only provides quality education and entertainment for children, but also it enhances their aesthetics. However, there have been fewer and fewer puppet shows recently.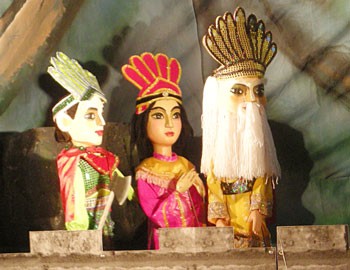 A puppet show of the legend 'Son Tinh (Mountain God) and Thuy Tinh (Water God)' is performed by the HCM City Puppetry Art Troupe.
A festival of folk games and puppetry, featuring 11 programs from southern cities and provinces including Ho Chi Minh City, Khanh Hoa, Dong Nai, Dak lak, Binh Thuan, Kien Giang, Can Tho and others, was held in the Mekong Delta Province of Kien Giang from July 31 to August 1.

Experts said that this year's festival was poorer than previous events. The number of participants and diversified activities has been reduced, due to a shortage skillful artists and artisans, who often lack the money to make puppets.

"The management board of the puppet troupe of HCM City's District 8 tries to maintain the troupe's activities. Puppetry has made an outstanding contribution in educating and propagandizing children," said deputy director of District 8's Children House Huynh Anh Kiet.

Ho Chi Minh City is seeing a very feeble puppetry activity and a shortage of talent within younger generations.

The city's puppetry art troupe, part of the Department of Culture, Sport and Tourism, faces many difficulties, such as the closing of the theater on Dong Khoi Street, a "golden place" in the city center, which attracted local and foreign visitors. A temporary stage was arranged at the Nguyen Du Sport Club in District 1, which is far away from the head office located in District 11's Cultural Center, reducing numbers of performances as well as quality of plays.

Insiders are also afraid that the city's government will merge HCM City Puppetry Art Troupe and HCM City Circus Troupe into one entity in the future.

"Puppetry and circuses are different art forms. They have their own development and audience. Merging the two will make it difficult for them to develop independently," said Director and painter Dang Tri Duc, a member of the HCM City Puppetry Union.

Puppetry mainly serves children and educates them through legends, fairy and folk tales about truth, goodness and beauty.

Puppetry should be preserved and developed in accordance with modern life as an invaluable traditional art.

The government must prioritize training the next generation to carry on the traditional art form of puppetry.