Designer Minh Hanh is attending the International Festival on Special Textiles and Garments at the Bargoin Museum in France from September 12-16.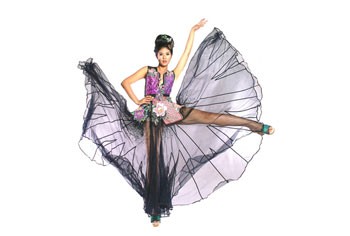 A design by Minh Hanh
She will present 50 fashion products made of special brocade woven by ethnic H'Mong people in Ha Giang Province and Bac Ha District in Lao Cai Province.
The designs will be displayed by Miss Vietnam 2010, Ngoc Han; winner of Vietnam's Next Top Model 2010, Huyen Trang; models Pham Trang, Phuong Lien and other French models.
Fashion designers and artists congregate at the festival to introduce their traditional products, and to be able to help preserve and protect folk weaving skills for future generations.
Minh Hanh is a veteran fashion designer in the country. She has received many national and international awards. Hanh is also the first Vietnamese designer who was conferred the 'Knight of Art and Literature' award by the French Government for her contribution in promoting Franco-Vietnam cultural cooperation, particularly in fashion, in 2006. Designing an 'Ao Dai' (Traditional Vietnamese dress) is her main interest and she has spent all her life introducing it to different cultures.