An exhibition of 150 photographs and postcards of Ha Noi, Hue and Sai Gon from the early 20th century is being held at the offices of Xua va Nay (then and now) magazine at 181 De Tham Street, District 1, Ho Chi Minh City until September 10.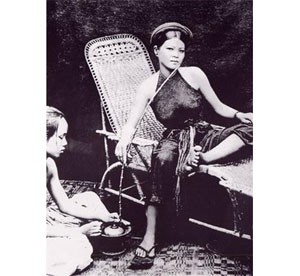 A young northern woman of the early twentieth century.
The pictures capture the architecture, culture, history and daily life of the three cities in the days when Hue was the imperial capital.
Some of the best show Ha Noi's old quarter, its bustling maze of 36 streets specializing in different crafts and trades, and its wealth of open-air and indoor markets.
There is Hang Bac Street specializing in silver casting, jewelry and exchange, the city's biggest stores grouped around the corner of Hang Bai and Trang Tien streets, and Hang Trong Street, where a Frenchman called P. Dieuleils owned the city's first photographic studio.
There are also shots of the Kho Xanh military base on Hang Bai Street, the Metropole Hotel, the Buoi School, what is now Chu Van An School (founded in 1908), the grand funeral of the patriotic scholar Luong Van Can, the founder of the Dong Kinh Nghia Thuc School, and Ha Noi women in traditional attire.
The subjects in the pictures of Hue are more formal affairs like the royal ceremonies of the Nguyen Dynasty, Dai Noi (the imperial city itself), the annual offering on Nam Giao Esplanade, imperial architecture, and the troupes that entertained the nobility.
Old Saigon was mostly countryside and open spaces, not the overcrowded and vibrant city it has become.

The exhibits give a clearer view of the daily life of the Saigonese and their architecture, as shown in the pictures of Cho Lon tram station, Sai Gon Railway Station, Sai Gon Library (now the Ho Chi Minh City General Sciences Library) and Gia Dinh Hospital, to name just a few of the subjects.

The exhibition, which will travel to Ha Noi in the middle of October, is a good way to enjoy the elegance of days long gone, before the modern world descended on Viet Nam.
Historian Duong Trung Quoc says the prized pictures taken mostly by foreign photographers return the Vietnamese people to their roots, show them where they came from.