Davines Hair Show & Contest 2012, presenting the latest hairstyle trends from across the globe will take place at the Hanoi Opera House on September 20.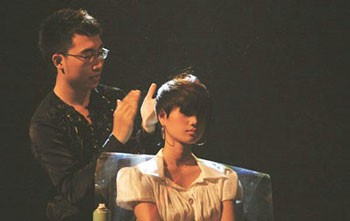 Young hair designer Bui Duc Thinh (L)
Local designers will compete for the 'Seed of Hope' award and a chance to take part in an international hair design contest in Paris next May.
Launched on August 1, the competition attracted many participants. 10 selected candidates will introduce different kinds of hairstyles on the final night in Hanoi on September 20.

Young hair designer Bui Duc Thinh who won the 2007 Hair Design Contest titled 'World Style Contest', part of the World Wide Hair Tour organized by Davines hair care, triumphed over competitors from Japan, Korea, Thailand, Indonesia, Singapore, the Philippines and Hong Kong to win the Asian final of the 2007 Hair Style Creative Contest.

Leading designers of the country like Duc Thinh, Minh Tam and Tran Hung will also join the event.
Davines is one of Italy's leading hair care companies and their first ever hair fashion show in Vietnam aims to honor the beauty of contemporary women hairstyles. Davines has held several very successful shows in major metropolitan cities around the world since 1996.