A cultural program, "Dan Mach vui" (Joyful Denmark), which is targeted at Vietnamese youth to use innovative web and mobile technology, will be officially launched by the Danish Embassy on the occasion of a State visit to Vietnam by the Danish queen, it was announced September 30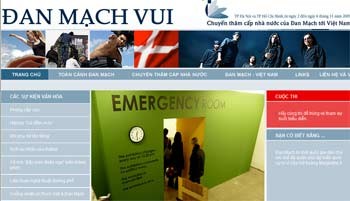 The official website of the program (Photo: Courtesy of Danish Embassy)
Cultural exchange is a key factor of development, said the Danish Ambassador, Peter Lysholt Hansen, adding that the State visit will be a great occasion for young Vietnamese people to participate in Danish –Vietnamese cultural events and to explore the diversity of  art.  
For the first time ever, the cultural events will be done through alternative modern forms of communication to attract Vietnamese youth.  
The Denmark embassy has teamed up with FPT Visky to provide the newest and most innovative technologies available. The program will include social networks using web and mobile technology. 
The program, found on
www.danmachvui.com
, will provide details about the upcoming State visit, facts about Denmark, Denmark–Vietnam relations and all the cultural events open to the public. 
There will also be a competition where visitors can win tickets to rock concerts in Hanoi, Hue and HCMC to watch Danish band "The Blue Van," with shows also featuring Vietnamese bands "Pentatonic," "Silent" and "UnlimiteD."  
The first ever joint State visit by Queen Margrethe II, her husband, and the Crown Prince and Princess of Denmark to Vietnam in November provides a unique opportunity for Danish and Vietnamese culture to be brought together.  
The Denmark embassy and The Danish Arts Agency, together with Vietnamese partners, have planned many of the cultural events.