Huynh Uy Dung, owner of Dai Nam Tourist - Cultural - Historical Zone is known as a successful tiger breeder.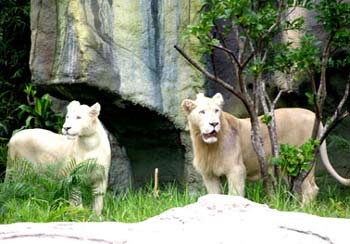 White tigers at Dai Nam zoo
Mr. Dung began construction of his 450 hectare Dai Nam Park in 1999. 260 hectares of the park is already complete at a total investment of VND3 trillion. During this construction phase his bank loans rose to VND1.2 trillion, causing him serious concern.

He knew what it was like to be a creditor and swore that he would not borrow from banks anymore but would resume construction on the park only when he had surplus funds. Today he proudly claims to be the happiest businessman in Vietnam for not owing a single penny to banks, though he had to struggle for 5 years to set up the Dai Nam Park.

He is now seeing success in tiger breeding. Dai Nam Park received nine Indochinese tigers in 2006, seven of which were given by Huynh Phi Ngoc, one of the biggest tiger breeders in Vietnam and the others came from Cambodia's Governor Karache. The park later adopted two Mexican white Bengal tigers.  Each tiger consumes about 7 kilograms of meat, beef, pork or chicken which costs VND350, 000 per day. Their population has increased to 20, as 11 of the tigresses have given birth to 9 cubs.

The safari park in Dai Nam Park has four play grounds, each on area of 200 square meters, designed to suit the natural habitats of tigers. Plans are afoot to build 48 more cages to shelter the newborns. According to Duong Thanh Phi, director of the safari park, the tigers are obedient and easy to tame as long as they are not provoked.

The safari park has today become an ideal destination for visitors and foreign researchers. Dai Nam Park is expected to assist conservationists in saving the Indochinese tiger from extinction.