The event has attracted 19 international artists from 15 countries, including Australia, China, France, Germany, Indonesia, Italy, Japan, the Republic of Korea, Myanmar, Mauritius, Myanmar, the Philippines, Russia, Singapore, Thailand, the US and Vietnam.

Speaking at the opening ceremony, Deputy Minister of Culture, Sports and Tourism Ta Quang Dong said that the fine arts exchange expresses the opening and solidarity spirit of Vietnam in the process of renovation, integration and development. It promotes the land and Vietnamese people, and Da Nang city to international friends.
On July 28-31, 25 artists gathered at Da Nang composition house to create more than 50 artworks made of different materials in various genres, including a painting themed "Da Nang" that they joined hands to draw to present to Da Nang city's Museum.
The air pollution and global warming are some of the most important problems that people has been very interested in. Artists must take mission to alleviate these problems and create active energy sources to lead the world to a better future, said artist Virgilio Aviado of the Philippines.
The event was organized by the Ministry of Culture, Sport and Tourism in collaboration with the ministry's International Cooperation Department, and Department of Fine Arts, Photography and Exhibition; along with Da Nang's Department of Culture and Sports.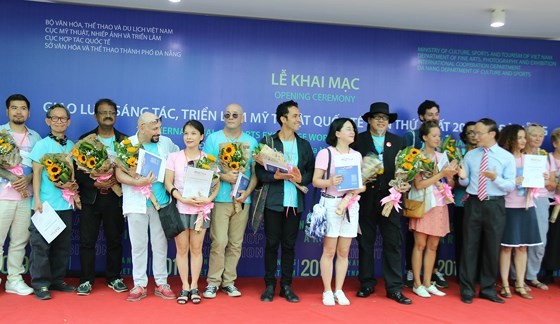 The event has attracted 19 international artists from 15 countries.