The 12th painting exhibition of the southeastern region (or Dong Nam Bo) opened yesterday in Da Lat for the Golden Jubilee of the Viet Nam Fine Arts Association.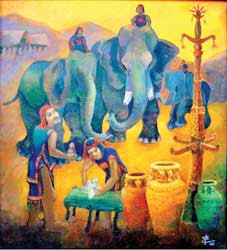 An oil painting by artist Pham Ngoc Tam is on the display.
130 exemplary works of art, including watercolors, oils, lacquers and silks, by 117 painters including 25 members of the Viet Nam Fine Arts Association hailing from nine cities and provinces nationwide, were selected from thousands of paintings for the display.
The Viet Nam Fine Arts Association also offered campaign medals for "Vietnamese Fine Art" to 164 individuals and organizations, after examining the display to select those works meriting awards.
The exhibition will last until August 22.