Famous South Korean opera singer Sumi Jo, a Grammy Award winner, will perform in the 'We are Friends' concert in Hanoi on October 27-28 to mark the 20th anniversary of Vietnam-Korea diplomatic relations.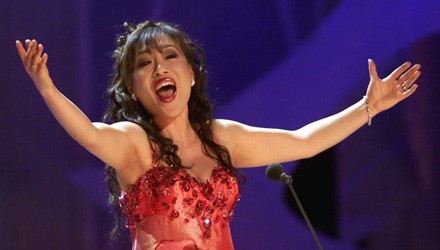 South Korean opera singer Sumi Jo
Jo was born Jo Su-gyeong in Seoul in South Korea. She was introduced to music early by her mother who was an amateur singer and pianist.
In 1976, Jo entered the Sun Hwa Arts School from where she graduated in 1980 with diplomas in voice and piano. She continued her music studies at the Seoul National University from 1980–1983.
In 1990, she made her European opera debut as Gilda in Verdi's Rigoletto at the Chicago Lyric Opera and then took this role to the Metropolitan Opera for next 10 years. She also performed in other operas such as Violetta, Donizetti, Dinorah (Meyerbeer).

The opera singer has also played Jazz ballads and was a guest singer at the 2002 World Cup in Seoul and 2008 Olympic Games in Beijing.

The Korean soprano will be onstage together with Vietnamese singer Duc Tuan and the Vietnam National Symphony Orchestra.

In addition, a series of cultural activities such as 'Gangnam Style' dancing contest, hanbok show, Taekwondo competition, will be held in Ho Chi Minh City and Hanoi.

The Korean film festival will take place at the Crescent Mall in District 7 in Ho Chi Minh City from October 18-24 and at Vincom Center in Hanoi from December 6-8.

A food fair featuring Korean dishes is expected to attract Vietnamese gastronomes at Keangnam Landmark Garden in Hanoi on November 3-4.

Vietnam-Korea Friendship Night will be the last event at the end of December, and will be attended by representatives from various fields including science and culture and who have made outstanding contributions in the development of relations between the two countries.