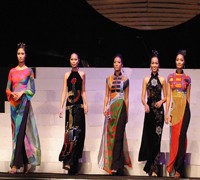 Vietnamese models

A Vietnamese cultural festival entitled "Dragon and butterfly" will take place in Rome, Italy, from June 16 to July 16.



On this occasion, the Vittoriano Museum, the most famous museum in Rome, will display contemporary artists' works at the opening ceremony.

An exhibition of photos on the daily life, natural beauty, land and people of Viet Nam will be opened in Rome on June 26.

Other programmers such as Vietnamese film week, the exhibition of designer Minh Hanh's fashion collection, Vietnamese cuisine will be organized in Rome.

Besides cultural activities, seminars on tourism and economic cooperation between Italy and Viet Nam will also be held in July.