A special tourism promotion program called 'Golden Tourism Month' will be organized in Hue from September 2-30, announced by the Hue Monuments Conservation Center.
The program aims to mark National Day on September 2; the 20th anniversary of recognition of the Hue Monuments by UNESCO; and 10 years since the Royal Court Music of Vietnam was recognized as an Intangible Cultural Heritage of Humanity.
The event will feature a series of cultural activities in the ancient capital of Hue.
-September 2: photo exhibition of Hue in Imperial Citadel.
-September 12-20: exhibitions celebrating Hue heritage at Hue Cultural Museum.
-September 14-15: 'Thua Thien-Hue Youth and Cultural Heritage' featuring activities such as popularizing about environmental sanitation, cleaning-up of historical sites, painting contest honoring cultural heritages.
-September 18: exhibition of ceramic products of the Nguyen Dynasty at Hue Royal Antique Museum.
-September 19: display of handwritings of Kings of the Nguyen Dynasty (1802-1945).
-September 20: exhibition of Vietnam's world heritage sites.
-September 21: a meeting on world heritage sites in the country.
-September 22: 20th anniversary celebration of recognition of the complex of Hue Monuments by UNESCO.
Visitors can enjoy a discount on entrance tickets to monuments, free transit via electric buses, and free Nha Nhac or royal court music performances during the month.
Nha Nhac or royal court music of Hue was recognized by UNESCO as an intangible cultural heritage in 2003, and has been named on a 90-strong representative list of Intangible Cultural Heritages of Humanity.
Meaning 'elegant music', Nha Nhac refers to court music performed at annual ceremonies, anniversaries and religious events, as well as special events such as coronations, funerals or official receptions.
Although its roots can be traced to the 13th Century, Nha Nhac reached maturity in the royal place of Hue under the Nguyen Dynasty.
The 'Golden Tourism Month' will present and promote ancient Hue heritage to tourists, as well as lure more travelers to Hue.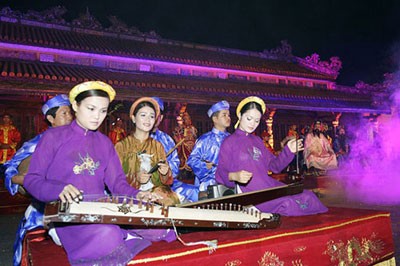 A performance of Nha Nhac