The Cham people in Ninh Thuan Province worshiped their ancestors and prayed for good crops as they celebrated the Kate festival on October 18.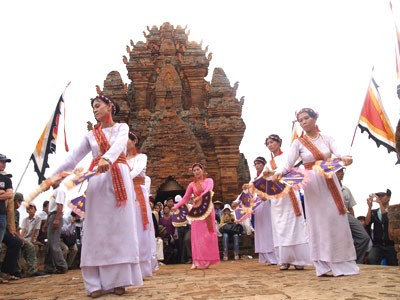 A traditional Cham dance to celebrate the Kate festival at the Poklong Garai Tower in Phan Rang
The festival, the most important in their calendar, was celebrated at Poklong Garai tower in Phan Rang city, attracting thousands of faithful.

The tower, situated on Trau hill 5 km northwest of Phan Rang, was built at the end of the 13th century to worship King Poklong Garai (1151-1205).

A great monarch, he has been deified as the Irrigation Deity.
Nearly VND11 billion has been spent to give a face lift to the Poklong tower area for this year's festival.
Kate is celebrated on the first day of the seventh month in the Cham calendar (normally September-October in the Gregorian Calendar) in honor of Garai and another male deity, Porome.

Cham palays (villages) start getting ready for the year's biggest festival four months in advance.

Older people prepare the temple offerings, young men practice pranung (drum beating) and a wind instrument called the saranai, and young women rehearse traditional dances that involve carrying a large fan or balancing a jar on their heads.
The palays hold competitions every year for the best dancers and musicians.