The 11th Hoi An and Japan Cultural Festival kicked off in the central province of Hoi An City on August 24 aimed at marking the 40th anniversary of Viet Nam –Japan diplomatic ties as well as celebrating "Viet Nam and Japan Friendship Year".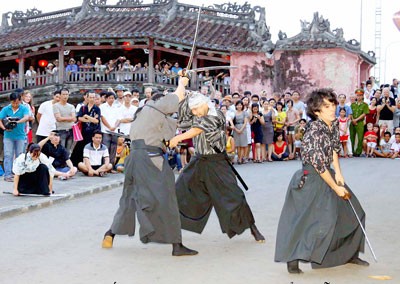 As many as cultural activities are taken place during Hoi An -Japan Cultural Festival
Japanese and Hoi An artists performed many unique programs such as Samurai-kamui sword performance, calligraphy, folk music and local dances.
Other highlights during festival include demonstrations of Origami; the Japanese art of paper folding and Japan & Hoi An folk games; traditional Japanese drum dance were also showed by both Japan and Hoi An participants.
Mr Yasuaki Tanizaki, Ambassador of Japan in Viet Nam attended in this festival.