Once again this year, the jury of the Vietnam Stage Artists Association (VSAA) Awards 2009 opted not to bestow a play script with the Awards' top honor, demonstrating that Vietnam is facing a dearth of good scriptwriters.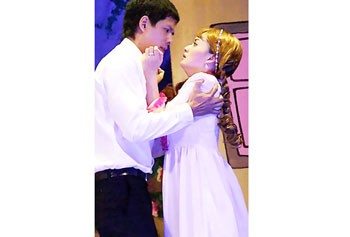 A scene from the play Ky Nghe Lay Tay (Technology to marry a westerner), performed at the Phu Nhuan Theater in HCMC. The stage drama is considered one of a select few quality plays in the country.
The event, held March 31 in Hanoi, aimed to honor the country's best plays and writers, but failed to recognize a single standout script. Instead, play writers shared second and third place awards.
To address the problem an annual script-composing camp was set up in the past to help local writers develop their potential.
Each participant receives tens of millions of VND to write quality scripts during the camp, but so far, the activity has failed to produce the desired results.
While a plethora of writing has been turned out, the quality of the scripts has not yet improved.
Such investments have so far been wasteful, said the chairman of the Ho Chi Minh City Stage Artists Association, Le Duy Hanh.
This year's scriptwriting camp should be changed to foster the improvement of writing quality, and only writers who produce good works will be funded, he added.
The HCMC Stage Artists Association will organize a scriptwriting contest nationwide in July, aimed at discovering and encouraging potential young talent.
Other experts argue that some good scripts are not developed into stage dramas due to conflict between directors and writers who don't see eye-to-eye on projects.
According to industry insiders, directors, producers and writers should take time to communicate about such issues and work toward compromises so that more quality plays can be produced.