The Israeli Embassy in Vietnam will host a week of Vietnamese and Israeli cuisine from January 18 to 24, offering chances for food connoisseurs to figure out similarities in the countries' cooking styles.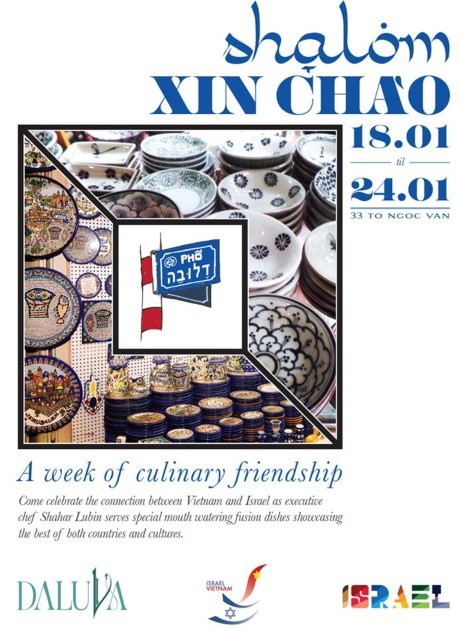 Vietnamese and Israeli ​cuisine week is set to take place in Hanoi from January 18 to 24 (Source :internet)
The event is organised as part of a long-term strategic cooperation in arts and culture between the two countries, according to Quan Doi Nhan Dan (People's Army) newspaper.
Israel's diverse population makes its cuisine unique, with typical foods as felafel, which is made from seasoned mashed chickpeas to form into balls which are fried, hummus with pita, salad, chicken soup with matzo balls, roasted meet, cook sweet carrots, and other cooked vegetables.
The bond between Vietnam and Israel has grown substantially since it was established in 1993.
Trade ties between the two recorded positive growth in recent years, reaching over 1 billion USD per year at present. Israel is operating 18 projects worth 39 million USD in Vietnam, focusing on agriculture, chemicals, textile, and informatics.
Bilateral partnership has been forged and expanded, particularly in science and technology.
Israel's drip irrigation technology, male shrimp breeding production and medical equipment are capturing the interest of Vietnamese firms.-VNA