A conference entitled "The logical and real value of the textbook Duong Kach menh (Revolutionary Path) written by President Ho Chi Minh" was held yesterday in Ha Noi to mark the 80th birthday of the work and 55th anniversary of the Viet Nam publishing industry's traditional day (September 12).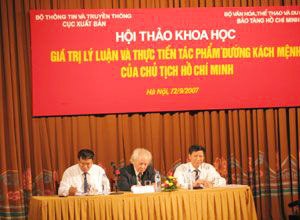 The conference marks the 80th birthday of the textbook Duong Kach menh by President Ho Chi Minh.
Nearly 60 speeches studying Duong Kach menh from different angles were presented at the conference by researchers and scholars. They recognized the work's position in the treasure of Vietnamese revolutionary argument and applying its lessons for the renewal and international integration of the country.

The textbook includes tasks taught by President Ho Chi Minh at training courses on policy in China's Guangzhou in 1925 – 1927.

Duong Kach menh, which propagated Marxism and Leninism, is regarded as the first political argumentative textbook of Vietnamese revolutionary thought. The book reflected Chi Minh's opinions, ideals, strategies, and Vietnamese revolutionary methods.

His work not only brought the essence of Marx-Lenin's theories to Vietnamese revolutionary soldiers in the 1920s and 1930s, but is still applicable to the current affairs of the country after 80 years.

The discussion was jointly organized by the Ministry of Information and Communications and the Ministry of Culture, Sports, and Tourism.