Vietnam Television will hold a concert celebrating the Dien Bien Phu Victory in 1954 in Hanoi on April 21, 2014.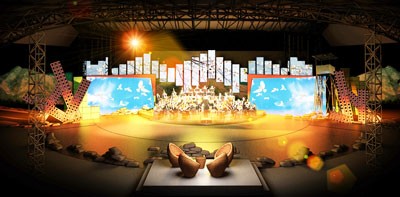 Concert stage design

The show "Dien Bien Phu - Ban Giao Huong Hoa Binh" (Dien Bien Phu - A Symphony of Peace) will perform famous revolutionary and political songs commemorating national heroes. It will provide education of the sacrifices made by the armed forces for the sake of national defense and security.
The highlight of the event is interviews with war veterans during the show.

The performance will be broadcasted live on VTV1, VTV4 and VTV6 channels.