A concert to celebrate International Handicapped Day will take place at the HCMC Opera House on December 3.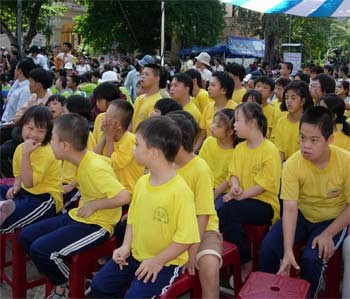 Handicapped children enjoy a concert at the Ho Chi Minh City"s Children House in the Chidlren Day on June 1. (Photo: KK)
Called Nhip Cau Nhan Ai (humannity bridge spans), the show is being organized by Viet Nam Assistance for the Handicapped, the Central Theatre, the Nippon Foundation and the Ho Chi Minh City Handicapped Children's Relief Association.
It will be a truly regional event with appearances by the Japanese rock band Gypsy Queen and the Taiko troupe of deaf Japanese drummers, blind singers and pianists from Thailand, Cambodian wheelchair dancers and disabled artists from Laos.
The Hope School in Ho Chi Minh City's Binh Thanh District will contribute a troupe of deaf dancers, and the well-known local singers Quang Ly, Ai Van, Phuong Thanh, Ho Quynh Huong and The Hien along with the saxophonist Le Tan Quoc are also booked to perform.
The concert will be telecast live by Ho Chi Minh City Television.
A week beforehand, on November 25 and 26, the Laotian Disadvantaged and Handicapped People's Relief Association and the Laotian Fine Arts Association will put on concerts for International Handicapped Day in the Laotian capital, Vientiane, with some help from Viet Nam Assistance for the Handicapped.