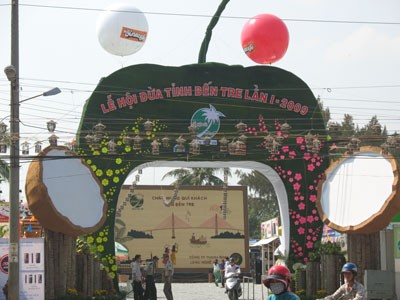 The first Coconut Festival was held in Ben Tre Province in 2008 (Photo: C. Tuong)
People's Committee of Ben Tre Province in the Mekong delta yesterday held a press conference to introduce the 4th Coconut Festival
.
As scheduled, the festival will take place in the province from April 7-13 with the theme of Vietnamese coconut in the integration and development era.
The festival aims to honor local coconut growers and the 100-year history of growing coconut in the locality as well as promote products made from coconut and economic value of the tree.
As part the festival, many activities such as workshops on effects of products from coconut on health; cuisine festival, the program "Week of Culture- Tourism " and the Beauty Competition of the province will take place.
Currently the province has around 64,000 hectare of coconut growing land. Products made from coconut are exported to 77 nations and territories in the world.