The 2nd national zither festival will be held at the Labor Cultural Palace in Ho Chi Minh City on October 30 this year.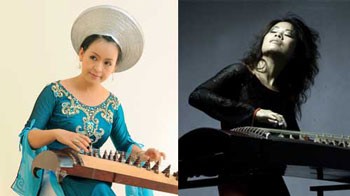 Zitherists Hai Phuong (L) and Van Anh (Photo: Tuoitre)
Zither is a musical instrument composed of a flat sound box with about 30 to 40 strings stretched over it and played horizontally with the fingertips, a plectrum, a bow or set into vibration by the wind.
Famous zitherist, including well-known artists Hai Phuong, Van Anh, Mat Troi Do (The red sun) band and Tieng Hat Que Huong (hometown singing) club will participate in the festival.
The artists will present a new performing style influenced by both traditional and modern music which will attract many young audiences.
Entry tickets will be from VND100, 000 to VND500, 000.
All proceeds from the festival will be utilized to prepare for the forthcoming 3rd Asian Zither Festival.
The Vietnamese zither (dan tranh) is also known as Dan Thap Luc or sixteen-string zither. It has a trapezium-shape, 110-120 cm in length. The broader end is 25-30 cm in width with holes to hang the strings. The narrow end is 15-20 cm in width with 16 keys. The strings are made of silk or copper or steel.
Players use all fingers with plectrums on the thumb. The music of the dan tranh is usually very cheerful. The instrument is often performed solo or in concert, to accompanied poetry chanting and singing.