In celebrating Mekong-Japan Exchange Year 2009, Japan's consulate has chosen July 12 to be 2009's Japan-Vietnam Day in Ho Chi Minh City.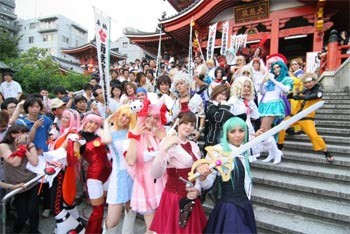 The cosplay show is the most-anticipated show by local audiences
On this day, some selected cultural activities will be held at the HCMC Youth Culture House (4 Pham Ngoc Thach, District 1).
The event will officially start at 9am.
Those who love Japanese martial arts will have opportunities to see on stage various performances of Kendo, Aikido, Judo and Karate.
The event will also provide more practical lessons on some Japanese arts, including cuisine, cosplay, tea and Haiku poetry.
The cosplay show will start at 2pm, followed by the conference "Van hoa doanh nghiep Nhat Ban" (Japanese business culture).
There are also three performances by professional and amateur Vietnamese artistes from the HCMC Labor Culture Palace, Tre Xanh Group and the Lac Hong University.
Entrance is free.
The event is a collaboration of the Consulate-General of Japan in Ho Chi Minh City, HCMC Martial Art Federation, anime and manga website
www.Acc.vn
, Tra Viet club, and the city's Haiku Poetry Club.
This is an annual event to strengthen the friendship between Vietnam and Japan, and also offer a chance to local residents to learn about the cultures of the two countries.