Despite the abundance of stages in Ho Chi Minh City, finding a theater equipped with modern facilities for dramatic and cai luong (southern folk opera) plays can be difficult.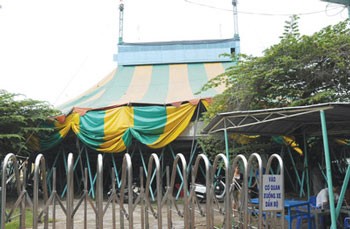 The project of Phu Tho multipurpose performance house has been planned, but yet to kick off.
Industry insiders say the shortage of such theaters has thus led to a lack of good dramatic and cai luong performances in the city.
The 2,000-seat Hoa Binh Theater, built several decades ago, is regarded as the most modern theater in the city, but it is suitable only for only music performances.
Meanwhile, the municipal Opera House built during French colonial times is only appropriate for classical concerts.
Theaters including Phu Nhuan, Tran Cao Van, Ideacaf and others have simply been upgraded from meeting halls of district cultural centers.
Only Ben Thanh Theater is capable of staging dramas and cai luong plays. But art troupes must make reservations to perform several months in advance.
Several projects to upgrade theaters such as Phu Tho multipurpose performance house, Hung Dao Theater, HCMC Ballet Symphony Orchestra and Opera Theater, and others have been planned, but are yet to kick off.
Deputy director of Tran Huu Trang Cai Luong Theater, Nguyen Van Hong, said that an upgrade project for the stage may be carried out in June.
The construction of a circus theater is still waiting for guidance and support from local authorities, added musician Ho Van Thanh, head of the HCMC Circus Art Troupe.
Director of the HCMC Department of Culture, Sport and Tourism, Nguyen Thanh Rum, said an upgrade project for the Ballet Symphony Orchestra and Opera Theater will be implemented in the Thu Thiem area in District 2.
However, city leaders must first survey the location and conduct site clearance.
"If we had earlier focused on building meeting halls into theaters, the city would have many stages now," said who? "Many district's cultural houses have spacious meeting halls, but they are not suitable for dramatic performances." said Le Duy Hanh, chairman of the HCMC Stage Association.
Art troupes must now spend a great deal of money to improve them for their performances, he added
Experts say that local authorities should take more interest in building modern theaters to serve both troupes and audiences, as they will also be able to serve future generations.