Ho Chi Minh City Stage Artists' Association celebrated the Vietnam's Stage Day and the death anniversary of the ancestors of Vietnam's stage at Hung Dao Theater on September 19 (August 12th of the lunar calendar).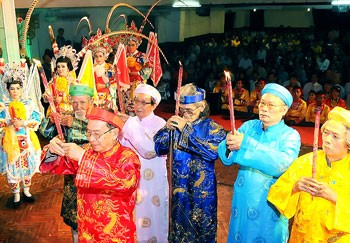 A ceremony celebrating Vietnam's Stage Day is held at Hung Dao Theater in HCM City on September 19.
Representatives of artists of different generations offered incenses to the ancestors of the traditional theatrical arts.

Various activities including documentary films of veteran cai luong actors and actresses, and many art performances were held in response to this Day.

Additionally, hundreds of artists took part in an announcement ceremony of the Vietnamese Stage Day which was held at Hanoi Opera House On September 18.

According to the decision, the 12th day of the 8th lunar month will be observed as Vietnam's Stage Day as of 2010 as a token of gratitude to the ancestors of Vietnam's stage arts.

People's Artist Le Tien Tho, Vice Minister of Culture, Sports and Tourism on this occasion stressed that the Revolution and National Stage has a remarkable contribution in building and protecting the country.