Libraries in Ho Chi Minh City are presently facing many difficulties like shortage of capital, lack of proper premises and poorly trained human resources.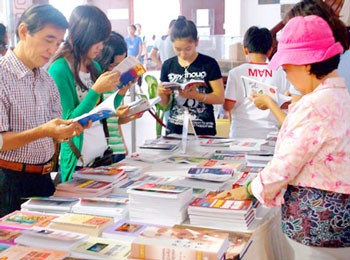 Readers at the HCMC General Sciences Library (Photo: SGGP)
The General Sciences Library in Ho Chi Minh City is struggling to keep its doors open and continue to serve its readers, same as other libraries in the City that are faced with a cash crunch, lack of proper premises and shortage of trained personnel.
The library received financial assistance from the FORCE fund, South Korea's SK Telecom Group, the American Chamber of Commerce (AmCham) and United Way International (UWI), French Consulate General in Ho Chi Minh City and French Valease (Book Enhancement in Southeast Asia) project to build rooms for audio books, equipment, organize mobile bookstores and open the Ly Tu Trong children's library.
The library has also leased its premises for opening a book café to earn money and has upgraded old reading rooms into modern reading rooms for businessmen.
Meanwhile libraries in districts around the city have not attracted visitors because of lack of professional human resources, no addition of the latest books and lack of so many other essential facilities. Most of these libraries are located in districts' cultural centers with other entertainments that have detracted from a reading environment.
According to Bui Xuan Duc, director of HCMC General Sciences Library, districts should join hands to build large-scale libraries with diversified cultural activities to lure more readers and avoid wasting on poor quality small libraries in every locality.