The state-of-the-art lighting system that has been installed at the front of the HCMC Opera House was funded by the French city of Lyon.  The city generously donated EUR136, 000 for the cause and the lighting system was inaugurated last night, reported the People's Committee of the city.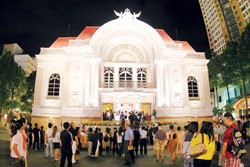 The new lighting system at the front of the HCMC Opera House.
The installation of the new lighting system is one of the projects in the restoration of the municipal Opera House, which has a total budget of VND16 billion (around US$1 million).
The HCMC municipal theater was built at the turn of the 20th Century, and is centrally located in District 1 along Dong Khoi Street, near two of the cities largest hotels; the Caravelle and the Continental.
The theater boasts three stories, 1800 seats and is an ancient work of French architecture that has been renovated several times over the past century. It is the place for artistic performances such as plays, concerts, ballets and operas as well as being home to many important national events such as conferences and meetings.
The opening ceremony of the event, featuring musical performances featuring singers like Quang Ly, Hong Hanh, Quang Linh was attended by the Chairman of the People's Committee of HCMC, Le Hoang Quan and Mr. Gilles Buna, Deputy Mayor of Lyon.