A cuisine contest themed 'The Golden Spoon' takes place at the Van Thanh Tourist Area on November 26, organized by the Tourism Association in Ho Chi Minh City, Business Studies and Assistance Center and the Minh Long 1 Company.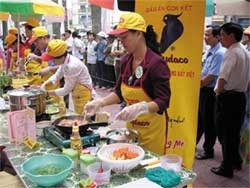 A cuisine contest (Photo:SGGP)
The contest was organized with the aim to discover and introduce traditional Vietnamese cuisine from across the country.
This year the contest attracted participation of 195 teams from more than 140 restaurants in 39 provinces.
The qualifying round of the contest included 24 teams. Earlier, the selection rounds of the contest were held in the Mekong Delta, Central Highlands, South Central, South Eastern and North Central Regions and in Hanoi.
After the semi-final round, the organizers will select the 10 best teams to compete in the final round of the contest. The final round may be held in HCMC on 14th January 2014.