The Vietnamese Record Book has acknowledged nine national records set by ceramic objects and related events.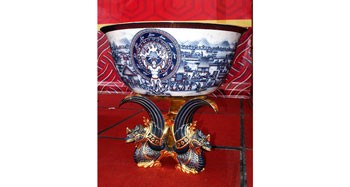 Van Lang ceramic bowl
Certificates of recognition for the records were awarded at the first Vietnam Ceramic Festival that concluded in Binh Duong province Sept. 8.
The "Essence of Vietnamese Ceramics" exhibition was itself named the biggest collection of ancient ceramics in the country.
The six-day event featured 720 items made during different eras, from pre-historic times till today, going through successive feudal dynasties in between.
The Golden Lotus, which is 88cm tall and 63cm across at the mouth and weighing 45kg, was declared the biggest one-piece ceramic trophy.
The Vietnamese Soul, which is 99cm tall, was acknowledged as the tallest one-piece ceramic trophy.
The gold-plated Van Lang, measuring 75cm across, 80cm high and weighing 45kg was named the largest one-piece ceramic bowl.

An unnamed lamp made at a workshop in Bac Ninh province became the tallest ceramic lamp at a height of 3.9m.
Called 'Heaven and Earth,' the largest ceramic jar weighs 200kg and has a mouth with a diameter of 3.5m.
Another jar, 'Globe,' was the tallest handmade one-piece jar at 1.86m. It weighed 165kg.
The 'Thang Long Vase', shaped like a bronze drum with a height of 73cm and a weight of almost 30kg, set the record for the biggest bronze drum-shaped vase.
An arrangement of 3,099 ceramic items covering 4,000sq.m that was displayed on the opening day of the festival under the theme 'Vietnamese Ceramic – Identity and Development,' was called the biggest exhibition of installation art.
The ceramic festival, which was held for the first time in Binh Duong province, cradle of the craft in the south, aimed to revitalise the craft that many experts have said is on the decline.