Hanoi is hurriedly readying itself for the Great Celebration of the 1,000th anniversary of the founding of Thang Long – Hanoi to take place over the next two months.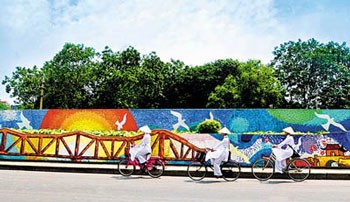 Part of the "Ceramic Road Along the Red River"
Thang Long – Hanoi has been the cradle of Vietnamese culture for thousands for years and has been the pride of not only Vietnam, it has also attracted foreign scientists and people from around the world.

According to Dr. Luu Tran Tieu, President of the Vietnam Cultural Heritage Association, researchers have discovered many sites within Hanoi, which date back to the cultures of Phung Nguyen (2nd millennium BC), Đong Đau, and Go Mun (1st half of the 1st millennium BC) and Dong Son and Thanh Den.

The Co Loa Citadel, which was the capital during the 3rd century BC and under the reign of Ngo Quyen (938-944), was a breakthrough showing the ancient Vietnamese people's strategic thinking in their march to the lowlands.

The most important discovery was that of Thang Long Imperial Citadel, which was recognized just last week as an UNESCO's world cultural heritage site, opened the door to scientists, revealing many aspects of social, cultural, and economic life during the era in which the Imperial Citadel operated.
The royal citadel's area covers 19 hectares at 18 Hoang Dieu Street; this ancient citadel belonged to the Ly, Tran, early Le and Mac dynaties. It is believed to have once covered over 40 hectares.

According to directions from the Ministry of Politics and Prime Minister, the Hanoi People's Committee began setting up the Steering Board of the 1000th Thang Long – Hanoi Ceremony in 1997, to implement more than 60 works to be included in the grand national event.

Among them, 8 constructions, including Hanoi Library, Kim Lien-O Cho Dua Road, Kim Lien T-Junction, Lac Long Quan Road and others became operational in 2009.

24 works are scheduled to line the "Ceramic Road Along the Red River" including statues of Uncle Ho and President Ton Duc Thang, the upgraded Vinh Tuy Bridge and four temples: Bach Ma, Voi Phuc, Kim Lien and Quan Thanh and many more will be completed before the great day, October 10.