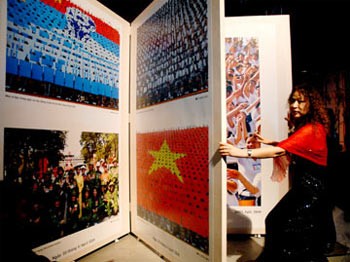 Japanese photographer Hitomi Toyama presents the giant photo album to the public.
The biggest photo album ever produced in Viet Nam is on public display at Ha Noi's Van Ho Exhibition Center from September 26 to 30.
Called "Sublimating Emotion", the classy album from Canon Viet Nam contains 86 pictures of this land taken by Japanese photographer Hitomi Toyama over a period of 15 years.
It took 15 Canon employees three months to finish the album, which weighs more than a kilogram, measures 259 by 185 centimeters, and is mounted on a sturdy wooden frame.
In recognition of the achievement, the Vietkings Joint Stock Company under the Viet Nam Book of Records presented a certificate to Canon Viet Nam.