Sixty foreign students joined 150 Vietnamese students at an international cultural exchange camp called Global
Village in the southern costal city of
Vung Tau on May 20.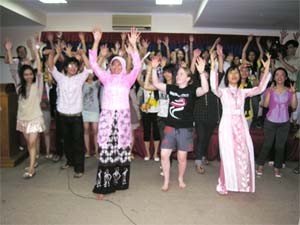 An Indonesian student, head covered, leads a group dance at an international students' camp in Vung Tau on May 20 (Photo: Thanh Tu)
The students, all aged 18-23, were from Cambodia, China, Indonesia, Hong Kong (China), South Korea, Japan, Philippines, Singapore, Taiwan (China), Thailand, New Zealand, Australia, Canada, and Italy.
They all brought unique products representing their culture to the camp which included a music festival, food fair, and traditional costume show.
Indonesian students lit up the evening with their traditional dances while the Japanese and Korean invited the others to try drinks like sake and soju at the food fair.
The Taiwanese gifted some calligraphy works to the others while the Cambodians offered their special thot not sugar (palm sugar).
The Vietnamese students wore the ao dai (traditional costume) and non la (conical hat) and gifted the guests plums from Hanoi.
The students also took the opportunity to learn about each other's cultures joined in some team games.
The camp was organized and sponsored by the Ho Tram Project Ltd. Co.