The event which runs till July 8 features a lot of cultural and sport activities, such asa parade of cruiseships, boat race, food fair featuring local di shes and Southern traditional cakes, exhibition on traditional crafts, decorative arrangements of agricultural products, performance of Don Ca Tai Tu music which has been officially recognized by UNESCO as an Intangible Cultural Heritage of Humanity, and among.
On this occasion, the city authorities organized a seminar reviewing the national master plan for tourism development worth VND63 billion to preserve and develop the market from 2016-2020 with a vision towards 2030.
According to the municipal Department of Culture, Sport and Tourism, Can Tho city received nearly 1.5 million visitors in the first six months, up 16 percent compared with same period last year and earned a total revenue of over VND2,300 billion.
Speaking at the opening ceremony, Vice chairman of the People's Committee of Can Tho city Duong Tan Hien said that the characteristics of customs and habits of local people associated with the waterway, creating a special cultural value of Cai Rang floating market. It is a strong point of the Mekong Delta tourism that local government and residents should join hands to preserve and promote cultural values as well as building a safe, quality and friendly tourism environment.
Cai Rang Floating Market is on the Hau River which is part of the Mekong river's basin. The market is a top tourism destination in Can Tho City and attracts a great number of local and international visitors every year. The UK's Rough Guide has just elected the Cai Rang Floating Market as one of ten most impressive markets in the world.
The Ministry of Culture, Sports and Tourism added Cai Rang Floating Market in Can Tho City to Vietnam's list of national intangible cultural heritages in 2016.
The festival is expected to become an annual event to draw more local and international tourists to Can Tho City.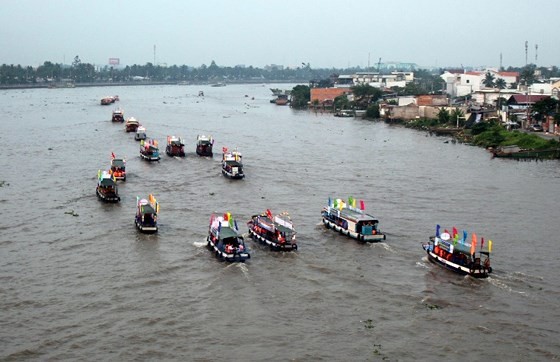 A parade of boats