The 'Buc Tuong' (The Wall) rock band, one of the most successful Vietnamese rock bands, will participate in a musical program named 'Dau An So Thu 5' at the Nguyen Du Indoor Stadium in Ho Chi Minh City on December 7.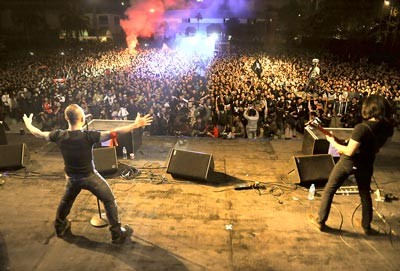 A performance by Buc Tuong rock band(Photo: SGGP)
The program will take place at 8.30 pm and will be televised live on VTV9, Phu Yen VTV and other channels.
The Buc Tuong band is a hard rock band formed in Vietnam on 26th March 1995, and includes three members-musician Tran Lap, guitarist Tran Tuan Hung and Nguyen Hoang. The band grew up from musical movement of students.
In 1996, the band created their first impression for audiences with their hit song 'We are the Wall' in SV' 96 program.
In 1998, the 'Buc Tuong' rock band was considered a professional rock band of Vietnam. In 2000, the band changed to an English name 'The Wall' and went on to become a leading rock band in Vietnam.
In 2006, the band decided to split and hold their last live show 'The last Saturday' at Giang Vo Exhibition Center to say good bye to about 20,000 fans who gathered at the show.
In July 2010, the rock band re-grouped with a new performance style from hard rock to modern rock. The band released a series of albums such as 'Ngay khac', 'Tam hon cua da', 'Vo hinh' and 'Nam cham'.
After re-grouping the band continues to receive good response from audiences and has become one of the most successful rock bands and will participate in 'Dau An So Thu 5' musical program. The musical program is an advantageous opportunity for the rock band who will recreate their hit songs of the past 18 years.