The British Council Vietnam will launch an Art Fund to help Vietnamese artists, curators and producers to further their art careers in the international arena.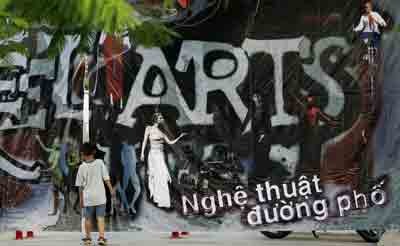 Street Arts - an art program organized by the British Council
The fund with an initial investment of US$4,200 will be available to artists, curators and producers, whose entry are approved by a high profile board member jury (BCAF).
BCAF board includes European Bureau head Nguyen Phuong Hoa, VTV3 reporter My Linh, musician Quoc Trung, art curator Tran Luong, British film maker Paul Zetter and Fund Chairman and British Council director of Arts for East Asian Region Neil Webb.
BCAF will support Vietnamese artists and Vietnamese arts organisations. In particular it aims to encourage collaborations between Vietnam and United Kingdom while promoting an understanding of the two cultures.
In October 2010, the British Council collaborated with the Bui Gallery to organise an Arts Auction of works donated by the Ford Foundation of artists such as Nguyen Manh Hung, Ly Tran Quynh Giang, Pham Huy Thong and Jamie Maxtone-Graham.
"Vietnam continues to have an incredibly diverse and talented group of artists.  Much of its arts scene has developed in isolation but is now benefiting from international influences.  It's our aim to help nurture artistic talent to continue to open for it a wider audience and widen its influence," said Simon Beardow, deputy director of British Council.