The Book Street Festival that took place at the same time together with Nguyen Hue Flower Street attracted around 700,000 visitors and earned a revenue of VND3.2 billion, including VND1.5 billion from the sales of books and accessories of Ho Chi Minh City Book Distribution Corporation-FAHASA

The book festival held along the main city streets including Mac Thi Buoi, Nguyen Hue and Ngo Duc Ke is one of the most expected events in Ho Chi Minh City during Tet holidays.
This year's book show themed "The colors of book" displayed more than 100,000 copies of publications of various genres such as politics, culture, history, literature and economics by leading publishers in the country.
The book fair displayed three subjects, including "Book and Youth", "Steady Rise", and "Children and the future city". There were exhibition areas of calligraphy, books, magazines, gifts and toys shop.
Participants were leading publishing houses, such as Ho Chi Minh City's General Sciences Library, FAHASA, Phuong Nam Cultural Joint Stock Corporation, Thai Ha Books Joint Stock Company, Phan Thi Media Education & Entertainment Co., Ltd. , Saigon Books Cultural JSC, Ho Chi Minh City General Publishing House, HCMC Culture–Literature and Arts Publishing House, Quang Linh Calligraphy .,Ltd, and calligrapher Vo Duong's business.
HCMC Book street featuring a series of exciting activities also attracted a great number of local and foreign readers during Tet holidays from January 25-February 10.
Stalls of HCMC Culture–Literature and Arts Publishing House, Nha Nam Publishing House, Phuong Nam Cultural Joint Stock Corporation, Dep (Beauty) Cafe, Sunflowers Books, Mua Thu (Autumn) Book Store, Alphabooks, Phuong Nam Bookcafe, Xunhasaba and Tre (Youth) Publishing House opened for the public during Tet holidays.

An area of caricature artists from Tuoi Tre Cuoi (Youth Humor), the caricature magazine of Tuoi Tre Newspaper, packed with crowds. These cartoonists left their guests with a fantastic memento of celebration.
According to the management board, the HCMC book street drew nearly 100,000 readers and earned over VND1 billion.The book bus - a mini mobile library launched last year attracts more than 500 visitors every day.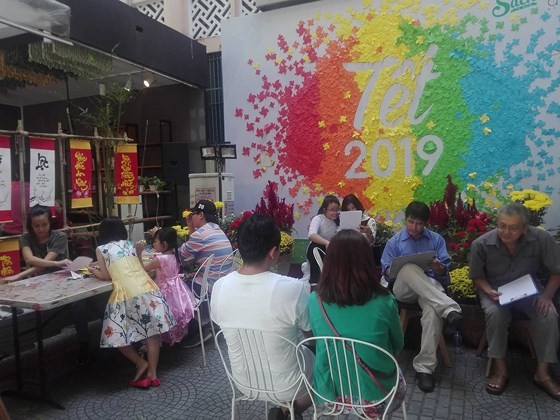 HCMC Book Street attracts many local and foreign visitors during Tet holidays.