Thu Nguyen, a 30-year-old Vietnamese-Canadian has just brought out a book on her homeland specialty food 'Banh Mi', titled "My quest for yummy Banh Mi", a tireless effort by her that took her three months criss-crossing the country.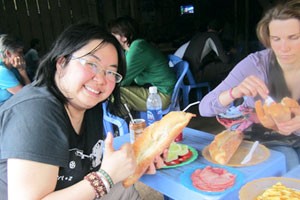 Thu Nguyen (L) preparing her yummy 'Banh Mi'
This book cum travel guide comprises of her experiences while travelling Vietnam in quest of places and recipes of 'Banh Mi'.
'Banh Mi' or Vietnamese baguette is one of the most popular fast foods in Vietnam. It can be found in every corner of a Vietnamese city or town, from pavement cafes to high-end restaurants.
Hot, crunchy 'Banh Mi' varies slightly in taste in different regions. It is basically sandwich bread that can be served with different kinds of fillings, vegetables, meats and spices. The amazing combinations in fillings add a flavor that overseas visitors find exhilarating and unforgettable.
Thu, an avid traveler went on a backpacking trip across the country, visiting well known bakeries and many street vendors to do a thorough research on recipes and techniques of making 'Banh Mi'.

Her experiences, recipes and cuisine tips are all contained in this book which is but a start of a series on Vietnamese cuisine. This ambitious idea is embedded in the hope that deeper appreciation of Vietnamese food culture will follow.

Thu has worked extensively on presenting many different Vietnamese dishes on a website named http://youcook.ca where she works as managing editor. It's an online magazine which offers foodies recipes and cooking tips from chefs around the globe.
"My quest for yummy Banh Mi" was officially released in electronic copy on two websites, http://youcook.ca and http://www.questforyummy.com on July 21st. The printed edition will be published in Canada this August.