An exciting boat race kicked off the traditional Ooc Om Bok Festival of the Khmer community yesterday in Soc Trang Province, celebrated each year to thank the Moon God for a rich and abundant fish and crop harvest.
People lined along the Maspero River bank to cheer the rowing teams. Of the 50 teams participating, seven are an all female team. Most of the rowers are from Soc Trang and neighbouring provinces.
Female teams are required to complete a distance of 1,000m while the male teams will have to cover 1,200m.
Ooc Om Bok Festival is celebrated on the 14th, 15th of the 10th month on the lunar calendar. The festival is one of the most prominent in Viet Nam, attended by thousands who ask their wishes from the moon deity for prosperity and good health.
As full moon appears on the night of the festival, local people offer green-rice flakes, ripe bananas, freshly peeled coconuts, mangoes and other offerings.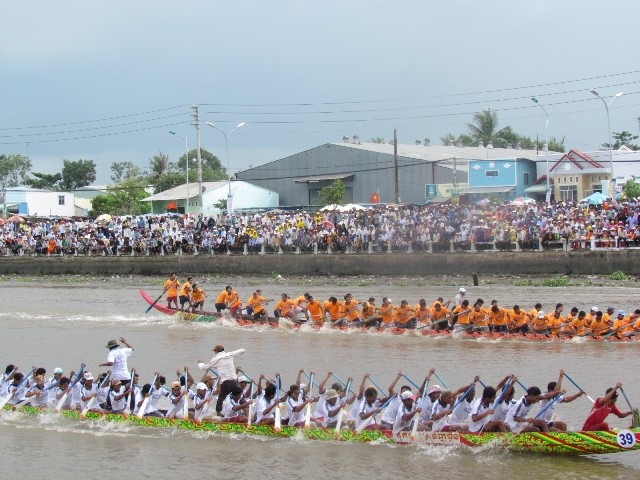 An exciting boat race in the traditional Ooc Om Bok Festival of the Khmer community in Soc Trang Province
At the end of the ceremony, the children sit on the ground and clap their hands while they are fed a handful of green-rice flakes by their elders.
During the festival, paper lanterns are released and handmade banana-tree ferries lined with lights are placed on the river. This is believed to sweep away the darkness and humidity of the rainy season.
The completion of the boat race signifies the end of the villagers' responsibility to the Moon God.
Soc Trang has the most Ngo (long) boats in the Cuu Long (Mekong) Delta, with nearly 100 kept at 90 Khmer pagodas. Every festival, the local men from the province use 40 boats for the race.
The boat race will continue again today. Both male and female team winners will be awarded a total prize award of VND30 million (US$1,428).