As a part of the "German Year in Vietnam" project, a film schedule featuring German blockbuster movies from 1950 to the present,  is set to enliven city cine-fans in the coming months, starting this May with the Slatan Dudow's Women's Destiny, described as a touching tragic love story that provides an  understanding about the inner-strength of  women.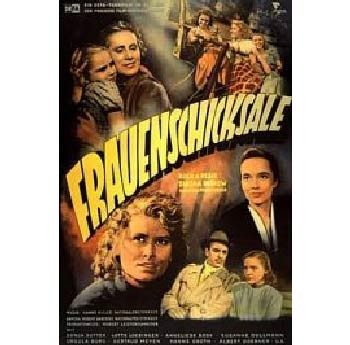 A film poster
The film begins with the familiar story of a troubled love affair.  Dudow employs an inconspicuous, didactic method, which is his unique filmmaking "recipe."  The film's heroes are exclusively female, as opposed to more typical films which tend to cast heroic roles to male characters.
Four women, Barbara, Anni, Renate and Isa are looking for happiness, as they embark on new lives in post-war  Berlin. Unfortunately, they are all destined to be undone by the womanizer Cony, and subsequently lose themselves in a labyrinth of love.
The young student Barbara falls deeply in love with Conny; Anni becomes pregnant by him him, and Renate is driven to thievery due to her mad love for him. Conny, however, chooses to couple with aristocrat  Isa von Trauwald  and  enjoys  the  luxurious  life  of  the  high  society,  which makes  the  situation  even more captivating …
At the time of its original release, the 104-mins movie hit the German cinema box offices like a storm, inciting an intense debate on the role of women in East Germany.
There is no wonder that Women's Destiny, or originally known as Frauenschicksale, successfully brought a reward back to its creator, who won the Best Director trophy at the Karlovy Vary International Film Festival that year.
The film will be shown just once, at 7.30pm May 11, at District 1's Institute of Cultural Exchange with France. Tickets are available at its box office and cost VND15,000 each.
The classic work of German cinema will be presented, courtesy of the Goethe Institute of Vietnam