Photographer-cum-battlefield cameraman Patrick Chauvel returned to Viet Nam yesterday to attend the premier of his documentary entitled "War Reporter" at the French culture center L'Espace (24 Trang Tien Street) in Ha Noi.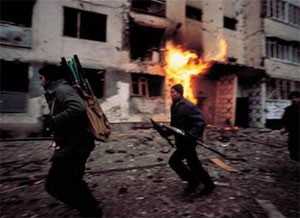 Kosovo, 1993 - A photo by Patrick Chauvel
The documentary features original images of the fierce struggles in Viet Nam, Cambodia, Iran, and Lebanon.
Born in France, 1949, Chauvel — armed with nothing but courage and his camera — spent more than 35 years filming battlefields throughout the world.
His work, including several World Press award-winning pieces, has been published in Paris Match, Time, and Newsweek (among other renowned magazines).
Female photographer Sarah Caron and director Daniel Roussel will also arrive in Viet Nam on September 18 and 19 for the debut of their films Nomadic Region and Missing People.
The free screenings of these films will take place at L'Espace through October.