An Australian film festival will be taking place in Ho Chi Minh City, Ha Noi and the northern provinces of Son La, Dien Bien, Lai Chau, Lao Cai, Ha Giang and Cao Bang. The festival, is organized by the Australian Embassy as part of the "Australia Month", a series of events celebrating the country's national day on January 26. The festival will run from January 20 to February 4.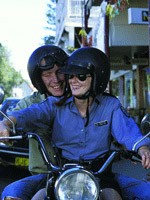 A scene in the film "Danny deckchair".
The festival will present six full-length and six short films, all featuring Australian directors and film stars.  The festival organizers hope that the films will give Vietnamese audiences an opportunity to learn about the land and people of Australia.
The film "Danny deckchair" will be screened at the opening ceremonies in Ha Noi and the northern provinces while "Japanese story", a romantic drama depicting a love affair between an Australian woman and a Japanese man, will kick things off in HCMC.
The films will be screened at cinemas throughout Ha Noi and HCMC, but movie-goers in the northern provinces will be able to take them in for free at outdoor venues.