The event's organizer, LYTHI Auction - the Vietnam's first commercial fine art auction house, will bring to the auction artworks of well-known artists in the Southern region, including Nguyen Trung, Dinh Cuong, Ho Huu Thu, Van Den Tu Duyen, Thai Tuan, Hieu De, Ngoc Dung, Nguyen Van Phuong, Ho Thanh Duc, Buu Chi, Nguyen Quynh, Trinh Thanh Tung.

There will be paintings by 'brilliantly mad' poet Bui Giang, architect Ngo Viet Thu and leading satirical painter Nguyen Hai Chi who is known as Choe.
Meanwhile "The Sprit Of The Oriental Romance" is expected to give a deep impression to viewers through artworks by Le Pho, Vu Cao Dam and Le Ba Dang. They are amongst the few artists who have achieved fame in France. Their pictures have been collected and owned by international colectors, investment funds and auction houses throughout the world.
The auction aims to honor famous artists who lived in the Southern region before 1975 and present a special period of the Southern fine arts to painting lovers. The event is also a chance for collectors and investment funds to contemplate and get Vietnamese rare masterpieces.
All of these artworks have been displayed in the Cafe des Beaux Arts, located on the Ground Floor of the Hôtel des Arts Saigon during one week from January 7-13.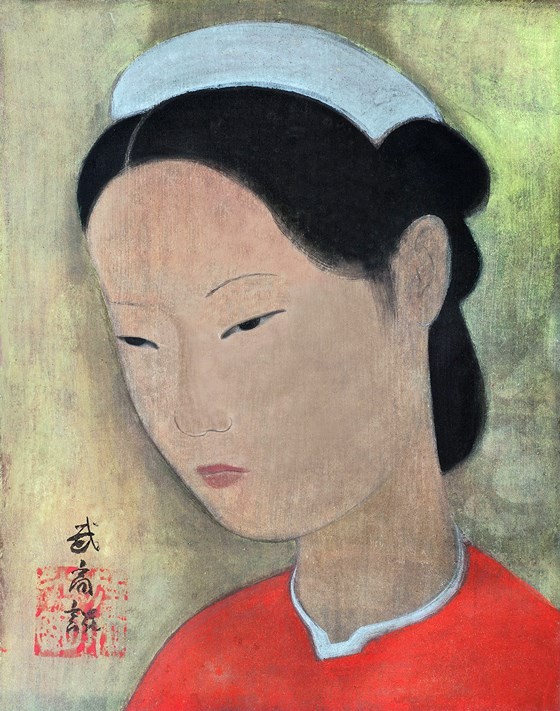 Portrait of a young woman by Vu Cao Dam at a starting price of US$52,000