The 28th Asian Advertising Congress (AdAsia 2013) kicked off in Hanoi on November 11 under the theme "Communications and Advertising Restructuring".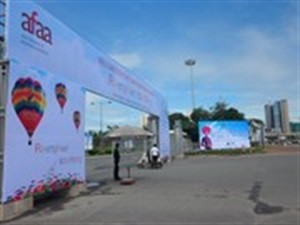 (Photo:VNA)
This is the first time Vietnam has been chosen as a venue for the 55-year-old congress. The AdAsia 2013 saw the participation of officials from Vietnamese ministries and branches and over 400 delegates from countries and territories in the Asian Federation of Advertising Associations (AFAA).
Addressing the opening ceremony, Deputy Prime Minister Nguyen Thien Nhan said the theme of AdAsia 2013 reflects a requirement of not only the advertising industry but also the world's economy in general.
"Due to the global economic recession in recent years, Asia and the world are facing challenges," Nhan said.
"However, this is also a big opportunity to activate creativity to contribute to the building of a prosperous Asia in an era of the knowledge-based economy ," he added.
The Deputy PM said the communications and advertising sector in Vietnam is still young, but hundreds of media agencies and thousands of advertising enterprises are playing a big role in boosting international integration.
In particular, the National Assembly of Vietnam has approved a Law on Advertisement, which has opened doors for investors joining the country's advertising market, Nhan said.
He described the event as a golden opportunity for Vietnamese media agencies and businesses to keep pace with the modern advertising industry in Asia and the world at large.
Deputy PM Nhan voiced his hope that the congress will help change social awareness of the power of the media and advertising sectors in popularising knowledge and promoting each nation's image.
During the four-day congress, there will be a series of international forums discussing global economic news, communications and trends of advertising.