Many musicians, painters, poets, fans attended a ceremony to mark the 90th birth anniversary of late musician Van Cao in Hanoi on November 12.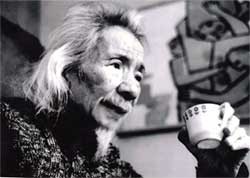 Musician Van Cao (Photo:SGGP)
On this occasion, his family, friends and fans will organize a musical show to honor the late musician. The show will take place in Hanoi on November 22.
Musician Van Cao is considered the most outstanding composer of modern Vietnamese music. He composed love songs and historical songs, such as Suoi Mo (Dream Stream), Mua Xuan Dau Tien (First Spring), Đem Son Cuoc (A night in the mountain), Ngay Mua (Harvest) and Chien Si Vietnam (Vietnamese soldiers).
Van Cao was not only an outstanding representative of Vietnamese music but also a great poet and painter.
To mark the occasion, journalist Nguyen Dinh Toan will also hold a photography exhibition themed 'Van Cao-18 years ago'. The exhibition will display 27 wonderful images selected by the journalist.
The exhibition will also showcase souvenirs, compositions and publications related to late musician Van Cao.