A special art performance will be held at Ben Thanh Theater in Ho Chi Minh City on November 10 to highlight the charity program run by Saigon Giai Phong Newspaper--'Nghia Tinh Truong Son' (Sentimental attachment for Truong Son Road).
The gala night aims to pay tribute to sponsors who have donated outstanding contributions to the program during last four years, including Joint Stock Commercial Bank for Foreign Trade of Vietnam-Vietcombank, Vietnam Joint Stock Commercial Bank for Industry and Trade-Vietinbank.
The organizers will also offer medals and certificates of merit to supporters, and hold exchanges between veteran soldiers and audiences during the event.
The gala event and music concert will present to listeners popular revolutionary songs performed by Meritorious Artist Thanh Thuy, Huynh Loi, Vy Hoa and the Military Zone 7 Art Troupe. The show is expected to give a deep knowledge of the sacrifices made by the armed forces for the sake of national defense and security.
According to Nguyen Tan Phong, SGGP Editor-in-Chief, the charity program aims to help war heroes, war invalids, martyrs' families, youth volunteers and the poor ethnic people that live along the provinces on Truong Son Road. During the resistance war against US invaders, the provinces along Truong Son suffered heavy losses and lost many human lives.
The organizers of the 'Nghia Tinh Truong Son' charity program have collected around VND140 billion to build the Ho village historical site, 17 dispensaries and 1,351 houses in 44 cities and provinces throughout the country, besides inaugurating two Truong Son martyr commemorative temples and offering more than 2,000 scholarships.
The gala ceremony will be broadcast live on VTV9, ANTV channels and 14 others across the country at 8pm.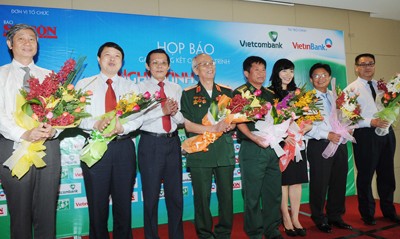 Nguyen Tan Phong, SGGP Editor-in-Chief (third from L), offers flowers to sponsors. (Photo: sggp)
Editor-in-Chief Nguyen Tan Phong speaks at the press conference on the art performance. (Photo: sggp)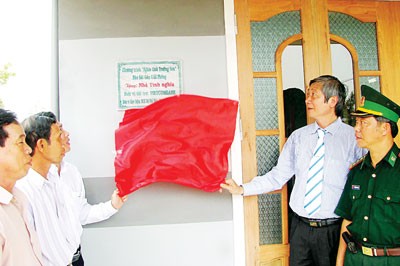 The organizers hand over a house to a war veteran in the central province of Quang Nam. (Photo: sggp)