An art performance was held in Ho Chi Minh City on November 11 to commemorate fallen soldiers who fought along the Truong Son-Ho Chi Minh Trail during the national liberation war.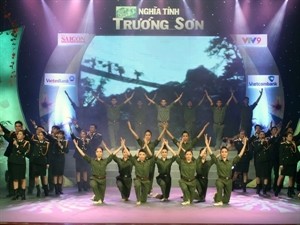 (Photo:VNA)
President Truong Tan Sang attended the event, which was also part of a charity campaign dedicated to the Truong Son soldiers.
According to Nguyen Tan Phong, Editor in Chief of Saigon Giai phong (Liberated Saigon) newspaper and head of the campaign's organising board, four years after its launch, the charity campaign has raised 140 billion VND (6.6 million USD).
The money has been used to build memorial houses for fallen soldiers and houses for war veterans and fallen soldiers' families, restore historical relics along the trail as well as to build schools and present scholarships to children in disadvantaged areas.
Songs on heroic soldiers and young volunteers who were ready to sacrifice their life to ensure the flow of supply to the southern battlefields were performed at the event, and benefactors of the charity campaign shared their feelings and deep gratitude towards Truong Son soldiers.
The Truong Son or Ho Chi Minh Trail which runs along the Truong Son Range was the key supply route from the north to the south of Vietnam during the war. It was the site of numerous fierce battles.